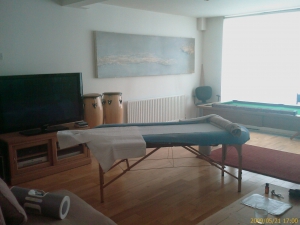 Life Massage home visit service
Enjoy your treatment in the comfort of your own home.  No need to travel and step out in the buzz of life….until you're ready to flow back into it.
We come to you with a massage couch or massage chair if preferred, towels, oils and relaxing music.  All you have to do is relax and unwind.
For the safety of our therapists, home visits are only carried out following a referral from an existing client or after a first visit at one of our clinics.
The therapist will come by standard with a massage couch but a massage chair is available if preferred. Massage oils and towels are also provided by all Life Massage therapists.
You can expect a reliable and professional service of the highest quality.
Life Massage provides a professional massage service. NO other service or "extras" provided.
Each home visit from our therapists is always notified to Life Massage admin team whose responsibility is to check with the therapist at a set time to ensure on their safety and well being. Any form of abuse or threatening behaviour will be immediately reported to the police and prosecuted.
Life Massage therapists reserve the right to refuse home visits without the need for justifications.
For info on pricing click here.  If you would like to book a treatment, check our availability by clicking the button below and then contact us on: Tel. 07718391798  Email: info@lifemassage.co.uk to reserve your booking.